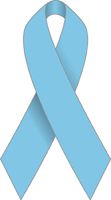 Prostate Cancer Awareness Month
Posted: September 18, 2018, 11:31AM
National Prostate Health Month is observed every September by health experts, health advocates, and individuals concerned with prosate health. Designating a month for the issue serves to:
Increase public awareneness of the importance of prostate health
Provide easily accessible prostate health screenings
Educate about risk factors and symptoms of prostate related diseases
Advocate for further research on prostate health issues
Prostate cancer facts:
Prostate cancer is responsible for more deaths than any other cancer except lung cancer in men
Every 3 minutes a man is diagnosed with prostate cancer
One out of every 6 men has a lifetime risk of being diagnosed with prostate cancer
Among African American men, prostate cancer is the most common cancer and the second leading cause of cancer death. The death rate is more than twice as high among African American men.
Prostate cancer is slow-growing in most men who have it and most men will die with prostate cancer rather than from prostate cancer. However, there are aggressive forms of prostate cancer and men (and those who love them) need to be diligent in pursuing diagnoses and treatments.
Do you know prostate cancer symptoms?
Trouble urinating - weak or slow flow
Decreased force in the stream of urine
Blood in urine or semen
Swelling in legs
Frequent pain or stiffness in the lower back, hips or ribs
Typical and Aggressive Prostate Cancer can also be diagnosed using PSA, Biopsy, Gleason Score, and PCA-3 test. If you have any signs or symptoms, contact your doctor immediately. Early diagnosis and treatment is essential.
In 2010, a friend of our family - Bob Wildpret - was diagnosed with an aggressive form of prostate cancer. Bob received treatment for two years before succumbing to the disease in 2012. Bob and his wife Joan took on the mission of educating and funding research for prostate cancer, and since Bob's death, Joan has continued to educate, advocate and raise money for prostate research. (Perhaps you've seen Bob's Globes of Hope at Garden Park in Warwood.)
Greg Merrick, MD, of Wheeling Hospital is another of our local champions for prostate health. Read more about treatments for advanced prostate cancer here.
---
Comments
No comments on this post.
---
Add a Comment