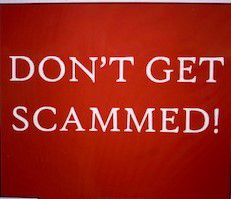 DON'T CLICK ON THAT LINK!
Posted: January 18, 2021, 2:01PM
Once again the topic is scams. The information bears repeating. Scammers have gotten more savvy, more sophisticated, and have had more fodder.
This past year has offered ample opportunity for people who may be lacking in character, honesty and integrity to take advantage of us. There are increases in the incidence of fraud and consumer scams, and other types of theft and exploitation.
I want to remind you that "they" really are out to get you! Scammers want your money. They want your personal information such as Social Security numbers, Medicare numbers, bank accounts and other information that could be used to steal your identity, steal your money and/or steal other resources.
They will call you, email you, text you, appear on social media, and perhaps come to your door. They may hack your accounts. They will threaten you.
COVID Scams abound! Offers of COVID tests, COVID cures, and COVID vaccines have filled our in-boxes. Scammers ask for personal information so they can get you on the vaccination list, move you up on the vaccination list, bill you for the vaccination, confirm you are age-eligible, provide an alternative treatment/cure, etc, etc. They are preying on our fear, and they are preying on the hope we have for the vaccine. They are preying on our frustration. Do not give out personal information!
I've heard more about Sweetheart Scams. These are probably increasing due to isolation and loneliness. Scammers will give you a fake persona. They tell you what you want to hear. They will express a desire to meet you but they may be stuck in a foreign country and/or have passport or visa issues. They may be caring for a beloved family member and can't leave. They may have gotten detained at the airport. Maybe they can't leave the area because of tax issues. Don't fall for this! Don't send money or gift cards. Do not provide account numbers for phones or other services. Just walk away.
The Grandparent Scam has also had a boost in popularity. This time a diagnosis of COVID has been added to the options of 'bad things' that have happened to the scamchild who is calling Gram for help. Hang up. Call your grandchild or their parents and check on them. Don't rush to take action.
With more online transactions, we are more vulnerable to Delivery Scams. The email tells us that our package is pending and all we need to do is "click the link" to verify. Don't do that. Please don't click on the link. Call the place of purchase if delivery is in question. You probably received a tracking number for your purchase.
Porch pirates steal the packages that have been delivered from our favorite online dealer. Can you use an alternate address where there is a safer drop? Do you have video on your door bell?
Utility Scams were in the news not long ago. Scam utility workers were knocking on peoples' doors to check on some sort of glitch. Do not let them in your home. Ask for ID. If in doubt, get ID information and call the utility company.
Charity Scams have been prolific, too, because we are usually a generous people. We see people in need and we want to try to make it better. Scammers love this! Give us a soft story, and we are right there. Don't be right there. Go to CharityNavigator for information on reputable charities. Give to the long-time charity of your choice. Donate to local charities that you can check on or that you know.
Don't give scammers the opportunity to 'get' you.
If you've answered the phone, just hang up. You don't need to be nice. Just hang up. Scammers can spoof numbers so don't assume that it really is your daughter calling.
If you are asked "Is this Mrs. Doe?", don't say "yes". Do not respond "yes" to anything. That "yes" can be extracted and placed as an answer to other questions.
Don't click on the link in the email, even if you are expecting something. Look up the number of the business and call them directly.
Did you get an email or text from a business with whom you have had no dealings? It's a phishing scam. Delete the email or text. Don't click on the link.
Paying bills on line? Make sure to check your account frequently.
The IRS, Social Security Administration, and Centers for Medicaid & Medicare Services will not call you nor will they threaten you. Hang up.
We need to be especially mindful. We have been isolated. Many people don't have anyone to check on them and it's especially lonely.
For more information on many of the above scams: Office of the Inspector General
To report scams, contact your state's Attorney General Office, FBI, FTC, and/or local law enforcement.
Sources: Office of the Inspector General, Federal Trade Commission, WV Attorney General
---
Comments
No comments on this post.
---
Add a Comment