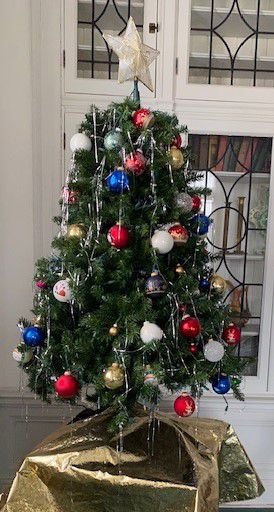 Home for the Holidays: How Are the Relatives Doing?
Posted: December 13, 2021, 9:50AM
There's no place like home for the holidays. No matter how old we get or where we live, most of us have a soft spot in our hearts about being home for the holidays. Home may mean a place and it may mean being with those we love. Last year really put a damper on that.
This year, many people are traveling and gathering for the first time in a long time. Many family members are visiting older relatives, and it may have been a while since we've seen our loved ones.
If you are one of those out of town relatives visiting older relatives, you may see changes. Not only does time take its toll on us as we age, so does the isolation that the pandemic forced on us.
Isolation can have a spiraling impact on us. Many people put off seeing health care practitioners or delayed tests because of the pandemic. Many had no one to talk to other than the TV or telemarketers who called. Many didn't eat well or regularly because it's really lonely to eat by yourself, and it was challenging for some to get groceries.
If you're one of those visitors and especially if you are a long distance caregiver, please pay attention to your loved one and their surroundings. Here are some suggestions.
Are their clothes clean?
Do their clothes still fit? Have they lost weight?
What does the house/apartment look like? What does it smell like?
Is there food in the refrigerator? Is it fresh or is it outdated? What about canned goods?
Are there stacks of mail? Are there shut off notices in the mail?
How are bills being paid? Is bill paying getting complicated due to vision changes or other changes?
Is the house/apartment warm?
Is the environment safe?
Does the home need repairs?
Are appliances working and safe?
Do you notice any cognitive changes?
Are your loved ones seeing their health care professionals?
If needed, is there a local caregiver? If not, is there someone who could check on your family?
Do they need some help to remain independent?
Do they need more help than can be provided in the home?
Some visitors may not be the primary caregivers. However, if you notice warning signs, contact those who are primary caregivers. Caregiving takes a toll on the caregiver. Sometimes, caregivers get so focused on juggling the day-to-day caregiving and the day-to-day necessities of life that they don't see what's right in front of them. (Been there, done that!) It can be helpful and a true eye-opener to let the caregiver(s) know and to know that you care.
Keep in mind, too, that many of us are not technologically inclined. What might seem a natural to the technology natives aren't a natural for us. (Ordering groceries online and paying bills online, for example) Also, keep in mind that rural areas may have connectivity issues or have no connection at all.
Remember, too, that there are services that can help families in the home, and there are facilities that can provide care if they are beyond staying home. (If you have questions, get in touch us at Altenheim Resource Services!)
Enjoy being Home for the Holidays!
---
Comments
No comments on this post.
---
Add a Comment